About Catherine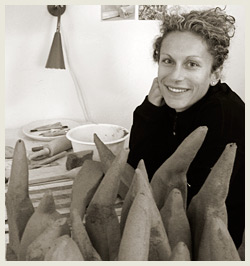 Catherine Paleczny completed a Master of Fine Art degree at the University of Calgary, Alberta, and has studied at the University of Michigan and the University of Western Sydney Australia. She has been a guest artist in residence at the International Ceramic Center in Denmark, the Banff Center in Alberta, the International Ceramic Sculpture Symposium in Boleslawiec, Poland and the Experimental Sculpture Factory in China. She has exhibited in Australia, Europe, Canada, China and in the USA. Although Paleczny has taught at many Universities, she is currently a full time teacher at St. John's Kilmarnock. Catherine also has work in the permanent collection at the Grimmerhaus Museum in Denmark, the Culture Centre in Boleslawiek Poland and the Experimental Pottery Workshop in China.
Artist's Statement
In my most recent work I am concerned with investigating the tension created in my objects by contrasting organic and human–made forms. I am interested in dealing with surface texture and material that references the exterior coatings of organisms. The current approach to my work has developed out of a more surface-sensitive (and material-sensitive) appeal. Rather then observing my natural sources directly, I instead look to my own personal experiences in interacting within the organic realm. Through this I am able to inject my personal response to an organic element.
Each design conceived from nature by combining organic networks of textural and architectural elements aid in formulating the metamorphosis of the original specimen. The act of combining botanical, ambiguous elements in an architectural fashion helps to create something familiar yet at times somewhat unrecognizable. The use of rhythmic organization can be compared to that of the nature of laying bricks or building supports for walls. These actions aid in the organization of patterns and multiples. Through this technique it is my intention to encapsulate or define a space rather than create mere shapes or forms.
My work is devoted to the microcosms of the organic world and through my personal hybridization I aim to create a new visual language. The sculptural installations fuse organic crossbreeds in order to establish a new environment that focuses on the integration of bulbous shapes, projections and carved incisions.
Contact
If you are interested in contacting me regarding prices, or, if you have any questions please feel free to email me.